An Alabama advance directive is a document that allows a person to select someone else to handle their medical decisions and make end-of-life treatment options. The agent selected by the principal may only be able to make decisions if the principal is declared incapacitated. A principal is declared as incapacitated when prescribed by a licensed physician.
Laws
Statutory Form – § 22-8A-4
Signing Requirements (§ 22-8A-4(4)) – Two (2) or more witnesses above the age of 19 years of age. Neither witness may be related to the principal by blood, marriage or any person that is listed as a beneficiary under the Principal's estate.
State Definition (§ 22-8A-3(3)) – "A writing executed in accordance with Section 22-8A-4 which may include a living will, the appointment of a health care proxy, or both such living will and appointment of a health care proxy."
Spanish (Español) Version – Adobe PDF
Versions (4)
---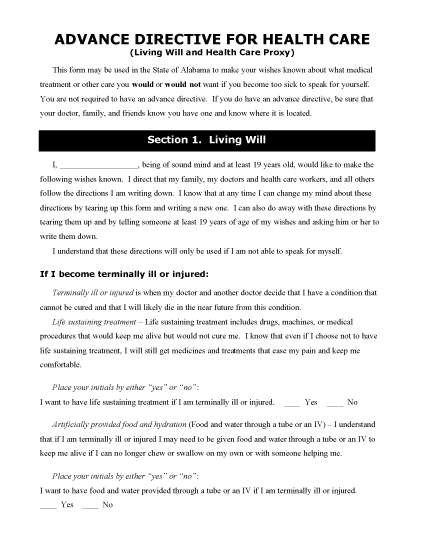 Alabama Hospital Association
Download: Adobe PDF
---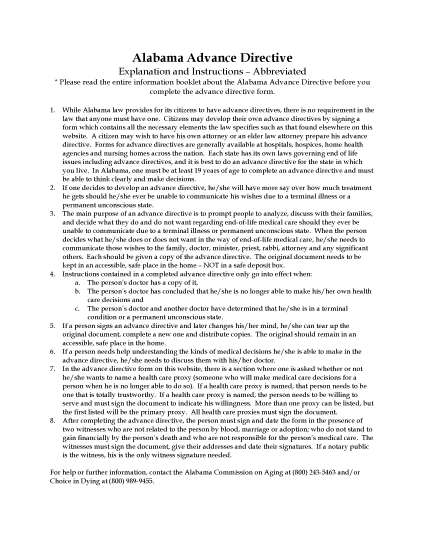 Homestead Hospice
Download: Adobe PDF
---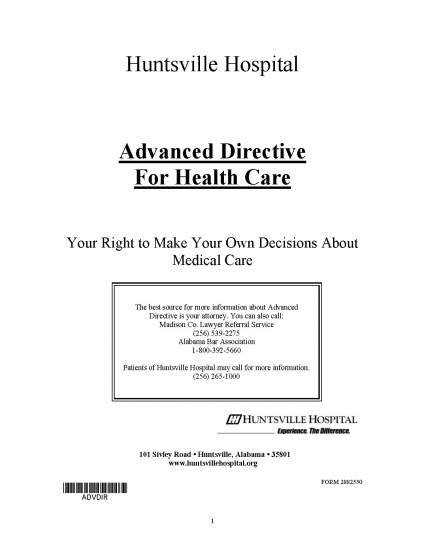 Huntsville Hospital
Download: Adobe PDF
---

Baptist Health
Download: Adobe PDF
How To Write
Download: Adobe PDF
Section 1. Living Will
Alabama Principal
(1) Your Name. This paperwork requires that all the concerned Parties be identified where requested Your name, as the Alabama Principal must be recorded exactly as it appears in your medical records and government issued I.D. As the Medical Principal behind this rom, you will be able to document your treatment preferences as well as name a Health Care Proxy that Alabama Physicians can consult when seeking your consent or refusal of medical treatments.  You may use this document for one or both of these goals to be met.

If Terminally Ill Or Injured
(2) Life-Sustaining Treatment. If you are subject to a medically irreversible, untreatable, or life-threatening condition, then some decisions will have to be made concerning the maintenance of your body. If your body is unable to perform vital functions such as breathing or filtering toxins out of your bloodstream, then Alabama Physicians will likely seek to prolong your life through whatever means are legally available (i.e. a breathing machine, a dialysis machine, etc.) If you have been rendered unconscious during this time period, the directives in this document will (in most circumstances) be followed by Alabama Medical Personnel. Use the statement provided to delivery your initials of consent to receive life-sustaining treatment when needed or to prove your initials for refusal of a life-sustaining treatment.

(3) Nutrition And Hydration. If you are unconscious for a signficant amount of time and are terminally ill, your body may eventually become dehydrated or emaciated unless Alabama Personnel administer nutrients and fluids whether by hand, by tube, or intravenously. Your initials can be used to consent to receiving artificially administered food and liquid or they can be used to refuse refusing food and fluids.

If Permanently Unconscious
(4) Life-Sustaining Treatment When Comatose. If your Alabama Physicians have made a formal diagnosis that you have fallen into a state of permanent unconsciousness with no reasonable hope or waking up then, your body will not be able to continue functioning without aid. Your initials should be placed in the declaration statement to approve or refuse life-sustaining treatments employed to prolong life.

(5) Nutrition And Hydration When Comatose. Alabama Physicians will be faced with the potential of your body dehydrating or succumbing to starvation if you are in a permanently unconscious state. When left without your consent or approval, most facilities will seek your consent in some way to provide food and water when you cannot see to these needs independently. You can deliver consent through your initials. Unless certain circumstances are in place (i.e. you are pregnant), you have the option of refusing food and water administered intravenously by initialing your refusal.

Other Directions
(6) Your Medical Preferences. This paperwork must act as an accurate representation of your wishes so that Alabama Physicians and other Medical Personnel an provide the care you are comfortable with. While this template has covered some general topics, you are encouraged to continue with any specific limitations, conditions, consents, or refusals regarding medical care that may be administered when you are unconscious, incognizant or unaware of your surroundings, and/or incoherent. An area reserved for your directions, requests, and directives has been provided in this part of the document.

(7) Medical Directive Status. If you do not intend to use this document to deliver other directions to Alabama Physicians and Medical Personnel then verify this intent with your initials.

Section 3 If I Need Someone To Speak For Me
(8) Health Care Proxy Status. If desired, a Health Care Proxy ca be approved to deliver your consent or refusal for medical treatment when you are unconscious. This is entirely optional, but you must establish your intent to either name a Health Care Proxy or to confirm that this document shall be executed without making this appointment. Provide your initials to the appropriate statement for this task.

Designate The Health Care Proxy
(9) First Choice For Proxy. If you wish an Alabama Health Care Proxy to represent your decisions over treatment when incapacitated and either permanently unconscious or terminally ill, then you must furnish the full name of your choice for the Alabama Health Care Proxy to this declaration .This should be someone that your trust, is nineteen years or older, and capable.
(10) Health Care Proxy Relationship. An easy way to verify the identity of your Alabama Health Care Proxy to Physicians is to document the relationship he or she shares with you (i.e. parent, spouse, sibling, friend, etc.).
(11) Health Care Proxy Contact Information. Alabama Physicians may seek the hone number of your health Care Proxy for an immediate consultation regain your medical treatment preferences if you suffer a traumatic or life-threatening medical event. Make sure that your Health Care Proxy's phone number(s) are displayed with his or her name, relationship, and address.

(12) Second Choice For Health Care Proxy. If Alabama Physicians cannot reach your Health Care Proxy or she or she cannot or will not engage in the decisions needed for your treatment, a second approved individual may be set as your Alternate Health Care Proxy. By naming a Party as a second choice, Alabama Physicians will be ables to seek out this individual for your medical consents that he or she will be authorized to make by this document.
(13) Second Health Care Proxy Relationship.
(14) Second Health Care Proxy Address And Phone. There is a reasonable possibility that if your Second Health Care Proxy is contacted, it is because the first is unreachable, has declined to act, or has been disqualified (i.e. revoked) at a time when your consent to treatment is needed. Thus, it is especially important that the address and phone number(s) of your Second Health Care Proxy are up-to-date and accurate.

Instructions For Proxy
(15) Decisions On Nutrition/Hydration. You can enable Alabama Physicians to seek your level of consent to receiving intravenous food and water from your Health Care Proxy by initialing the statement that shows either your approval of this decision making power or the intention that your Health Care Proxy be unable to make this decision on your behalf.

(16) Health Care Proxy's Decision Powers. You can adjust the level of authority your Health Care Proxy can exhibit on your behalf regarding medical goals and treatments by declaring that he or she is only allowed to carry out the decisions you have made in this form, address additional topics not covered while following the instructions your have placed, or to have the ability to supersede the directives you have related here. Your initials will be needed to approve the statement that best defines the level of authority you wish to grant your Health Care Proxy over your medical treatment.

Section 3. The Things Listed On This Form Are What I Want
(17) End-Of-Life Consultations. If you suffer a traumatic medical event or are reached the end stages of a fatal condition (i.e. a fall illness or poisoning), you may request that your Medical Providers and Health Care Proxy consult with specific Parties regarding the decision to deliver nutrition and hydration artificially. Each Party you wish consulted with this decision must be named in this document with the contact information needed to reach him or her.

Section 4. My Signature
(18) Your Name. Confirm your identity as the Principal issuing this paperwork by re-entering your name (in print) exactly as it was reported in the first paragraph.
(19) The Month, Day, And Year Of Your Birth. Continue identifying yourself with a record of your birth date.
(20) Your Signature. Alabama Medical Personnel will need verification that the directives set above are made by your. You can demonstrate the intention to set the directives above in motion by signing your name while two Witnesses watch.
(21) Date Signed. The date when signing this paperwork is a mandatory report that must be supplied upon your signature's completion.

Section 5. Witnesses
(22) First Witness. Your Witnesses must sign this document to show that they meet the requirements of filling this role and that your signature was provided under their observance. The First Witness must print his or her name, sign it, then record the signature date.
(23) Second Witness. The next Witness who has seen you sign this paperwork must also print his or her name, sign his or her name, then date the signature provided. Notice that all signature dates should be the same.

Section 6. Signature Of Proxy
(24) Signature Of Health Care Proxy. The Health Care Proxy should be given the opportunity to review your completed directive. Once done, the Health Care Proxy must print his or her name in the acknowledgment statement, then sign and date this statement.

(25) Signature Of Second Choice For Proxy. Your second choice for the Alabama Health Care Proxy should have his or her name used to complete the final acceptance statement This declaration will require the Second Health Care Proxy to sign his or her name to this statement and define the  current date.