An Alaska advance directive lets an individual choose a health care agent and to select their end-of-life treatment options. This is useful for older family members to decide who they ultimately want to make decisions on their behalf and their terminal intentions.
Laws
Statutory Form – § 15.52.300
Signing Requirements (§ 13.52.010) – Notary public or two (2) witnesses. If two (2) witnesses, they cannot be:
Health care provider employee where the patient is receiving treatment; or
the agent.
State Definition (§ 13.52.390(1))) – "means an individual instruction or a durable power of attorney for health care."
Spanish Version (Español) – Adobe PDF
Versions (4)
---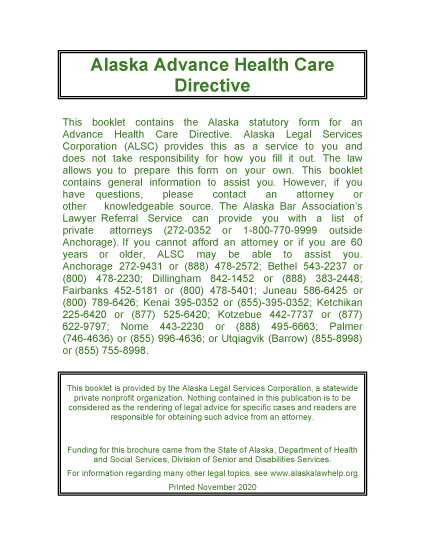 Alaska.gov
Download: Adobe PDF
---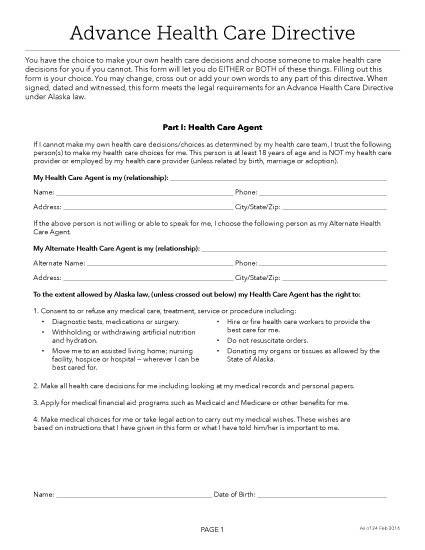 ANTHC.org
Download: Adobe PDF
---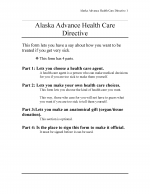 Providence Health & Services
---

National Hospice and Palliative Care Organization
Download: Adobe PDF
---
How To Write
Download: Adobe PDF
Section 1. Designation Of Agent
(1) Name Of Individual. The Attorney-in-Fact that will be granted the principal authority to inform Alaskan Medical Personnel of your treatment preferences, consents, and refusals
(2) Complete Address Information. The address of the Alaskan Attorney-in-Fact should be dispensed with his or her identity.
(3) Telephone Contact.   

Designation Of First Alternate Agent
(4) Name Of First Alternate Agent. In some situations, the Alaskan Medical Attorney-in-Fact may not be able to represent your wishes before Physicians in this state, may have had his or her principal authority terminated or revoked, or may be unwilling to carry out his or her duties in this role. This document allows a precaution to be set. You can name an additional Party whose sole role will be to assume principal power should your Attorney-in-Fact fail in this role. The First Alternate Agent you name will only be able to be held in reserve to receive power, if you specifically name him or her.
(5) Address Of First Alternate.
(6) First Alternate Agent Phone.

Designation Of Second Alternate
(7) Name Of Second Alternate Agent. The option to take a second precaution can be engaged for this appointment. If your First Alternate Agent cannot assume the role of Attorney-in-Fact when required then, the Second Alternate Attorney-in-Fact you name in this document can be contacted for your directives. His or her full name should be presented.
(8) Address Of Second Alternate Agent.
(9) Second Alternate Agent Phone.

Section 2. Agent's Authority
(10) Overriding Agent Authority.  This document will default to giving your Alaska Attorney-in-Fact with your approval to represent your medical directives when asked by a Physician or other Medical Personnel in this state. Naturally, even when a clear level of communication and high level of trust, some decisions may be extremely difficult to carry out or simply difficult for your Agent to decide upon. You can measure such responses by setting your preferences in writing within the content of this document. If needed, the option to place specific directions or even limitations (on your Agent's power) is available in a reserved area. Use this area to include your Principal directives and restrictions on the Agent as needed. You may attach separate paperwork with these items if more room is required but make sure to cite its title in this document.

Section 3. When Agent's Authority Becomes Effective
(11) Your Preferred Effective Date. Normally, the right to act as your Alaska Attorney-in-Fact becomes available to your Agent once you sign this directive (except when suffering from a mental illness). When dental illness is involved, you must verify your desire for the Attorney-in-Fact to access this power at your request. Otherwise, he or she will need to wait until an Alaska Physician formally diagnoses your inability to make decisions. To provide such verification, place a mark in the statement on display.

Section 5. Nomination Of Guardian
(12) Attorney-in-Fact As Guardian. The directive being completed will automatically name your Attorney-in-Fact as your nomination for Court-Appointed Guardian or Conservator of Estate. If you do not want to put forth such a nomination then strike out Section 5. It should be noted that you may nominate a separate Party for this role using the previous opportunity to put forth specific directives.

Part 2. Instructions For Health Care
Section 6. End-Of-Life Decision
(13) Prolonging Life. If you are subjected to a potentially fatal medical event or are near the end stages of a terminal illness, then, in many scenarios, your body will eventually become unable to sustain itself. You may inform Alaska Physicians of your treatment preferences during such a time using this form. By selecting the checkbox next to the appropriate statement, you can inform Alaska Physicians that you have decided to consent to life-prolonging treatments (i.e. life support machines that enable you to breathe) or that you do not wish Alaska Physicians to employ life-prolonging treatment when you are experiencing an end of life event.
(14) Comfort Care Without Life Support.  If you have opted to deny life-prolonging treatment then the decision of receiving comfort care should be determined then displayed. You must give consent to receive such care during an end-of-life event. Statement (i) enables you to consent to comfort care during when you are permanently unconscious and Statement (ii) will give you the opportunity to consent to comfort care while suffering from a terminal condition that will result in death.The option to include more instructions regarding the medical treatment you prefer and expect when you are in a permanently unconscious state or experiencing an end-of-life event.

(15) Artificial Nutrition And Hydration. If you are unable to feed yourself because you lack the ability, are unaware of your surroundings, or are unconscious then, select the statement that best defines the level of your consent. You may elect to receive artificial nutrition and hydration indefinitely, decide that artificially administered food and fluids should only be delivered if it does not increase the level of your suffering, or that artificially delivered nutrition and fluids should only be administered for a trial period then continued only if your condition improves. Select any one of the three statements defining these wishes to make it your declaration. If none of these are accurate then continue to the next optional directives you may issue.
(16) In Accordance With Section 6B. If you have already indicated that you do not wish for life support techniques applied to prolong your life and wish this treatment option continued to food and water, then you may refuse all artificially administered food and water by marking the appropriate statement.
(17) Other Instructions. If none of the predefined declarations should be applied as your directive on receiving artificially administered food and fluids, then you should discuss your preferences, conditions, and other provisions directly to this form. This option also requires that you select the corresponding checkbox.

(18) Relief From Pain. In general, when you are in pain your Alaska Physicians will seek to administer pain management procedures or medications to keep you comfortable. If you approve of this, then select the checkbox corresponding to this directive but if you have concerns or restrictions on pain management techniques, then deliver such instructions and select the checkbox corresponding to your statement.

(19) Pregnancy.If you are pregnant during a life-threatening medical event or when you are permanently unconscious, your medical preferences regarding how this document interacts with your pregnancy and any other concerns or instructions should be put in writing. Utilize the area provided for this task as-needed.

(20) Other Wishes. This directive will act as your voice to Medical Professionals in charge of your care when you are unable to comprehend or communicate medical treatment options or when you are unconscious for an extensive period of time. If there are any other conditions or restrictions you wish to impose on treatments or if you prefer that certain medial procedures or treatments be made available then such wishes should be included with this document.

Part 3. Anatomical Gift At Death
(21) Intended Anatomical Gift. An optional portion of this form is set to present your decisions on making an anatomical gift after death. One of two statements should be chosen through its corresponding checkbox to inform Reviewers of your decision on this matter. You may choose to give any body part or only certain tissues and body parts. Bear in mind that if you intend to make only a limited anatomical donation, then a list of all tissues, organs, and body parts that you wish to donate should be included when selecting the second statement.
(22) Approved Reason For Anatomical Gifts. In addition to a brief discussion on the anatomical gifts you wish donated, you can place rules on when such gifts can be made by addressing statement C. Here, several reasons for anatomical gifting are presented where you must select only the checkbox corresponding to the reason your anatomical gift can be made.
(23) Withholding Anatomical Gifts. If you have chosen to complete the anatomical gift directive to establish that you do not wish to make an anatomical gifts, then the final checkbox statement should be selected.

Part 4. Mental Health Treatment
(24) Psychotropic Medications. The State of Alaska has set several precautions regarding when you are declared unable to make decisions as a result of a mental illness. In this document, you can place specific preferences regarding your preferred treatment when faced with this diagnoses. You may either allow your Alaska Attorney-in-Fact to make decisions or you may produce your directives ahead of time in this document thereby overriding any decisions your Attorney-in-Fact may make when you are mentally incapacitated. For instance you can, include your consent or refusal to receiving psychotropic medications by initialing the most appropriate statement. Additionally, you can place conditions and limitations.

(25) Electroconvulsive Treatment. The next mental health topic in truant seeks a a demonstration of your consent to receiving electroconvulsive treatments or your refusal. Complete this act by initialing the statement that reflects your decision. A distinct area is available to display any conditions or limitations you with applied to your demonstrated preference.

(26) Admission To A Retention In Facility. If you have been rendered incapacitated or unable to make decisions due to a neural or psychological event, the question of being admitted to a facility for mental health treatment may need to be addressed. You can decide then report the number of days you will consent to admission in a facility for mental health care and initial this statement to apply it or you may opt to deny admittance to a mental health facility. In addition, you can place the conditions and limitations on admittance to such facility at will.

(27) Other Wishes. If there are any other topics or treatments that you wish to discuss, then use the final area this portion of the directive to include them as your mental health care preferences.

Part 5. Primary Care Physician
(28) Primary Physician Name.  If you wish your Primary Physician contacted if or when you are incapacitated, then produce a report of his or her name.
(29) Physician Address. Your Primary Physician's office or clinic address should be coupled with his or her name.
(30) Telephone Number. In addition to your Primary Physician's identity and address, his or her professional and/or emergency contact number should be include.

(31) Alternate Physician. If you prefer that your Physician be informed of your incapacitation and he or she is not available, this document can be used to present Reviewers and Responders  with the name, address, and phone number of an Alternate Physician you wish contacted.

Signing As The Alaska Principal
(32) Dated Signature. Review this paperwork until you are satisfied with the documentation it presents to Reviewers and Alaska Medical Personnel. When you are ready to sign this document, report the current date then deliver your signature before ether two qualifying Alaska Witnesses or Notary Public.
(33) Birthdate. Aid in verifying your identity by disclosing your birthday.
(34) Your Name And Your Address. After you have signed this document and produced your date of birth, print your name and address, then release this paperwork to the Witnesses or Notary Public qualified to at as such in the State of Alaska.

Witnesses
(35) Witness 1 Signature. If Witness 1 is present to watch you signing this document, then he or she must sign his or her name to verify that he or she is not related to you, will not benefit in anyway from your death, is not associated (professionally or financially) with a Facility responsible for your care, or an Agent in this document.
(36) Witness 1 Name And Address.  

(37) Witness 2 Signature. The second Witness may be related to your but must also meet several requirements (i.e. he or she cannot be entitled to an inheritance). Witness 2 must review his or her declaration statement, then sign the line immediately below it.
(38) Witness 2 Name And Address.  

Alternative No. 2
(39) Notarization Of Your Signing. You must sign this document to notarize your signature. The observance of the Notary Public is a mandatory part of the notarization process. Once you have provided it he or she will take control of this document then, provide the proof that you have signed it through his or her report and credentials.