An Arizona advance directive, or "life-care planning packet", allows a person ("principal") to select someone else (an "agent") to make medical decisions on their behalf. If the principal decides to include a living will, they can make declarations that detail their intentions of how they would like to be treated later in life. This may include language that reveals if they would become incapacitated that all life-sustaining procedures be stopped, which is a common request. Otherwise known a way to die a "natural" death.
Registration Application – Attach the advance directive to the application and it will be processed within 3 weeks. There is no filing fee (it's free).
Spanish (Español) Version – Adobe PDF
What's Included?
Laws
Signing Requirements (§ 36-3224) – One (1) witness or a notary public.
State Definitions
Living Will Declaration

 (§ 36-3201(10)) – "Living will" means a statement written either by a person who has not written a health care power of attorney or by the principal as an attachment to a health care power of attorney and intended to guide or control the health care treatment decisions that can be made on that person's behalf.

Medical Power of Attorney

(§ 36-3201(6)) – "Health care power of attorney" means a written designation of an agent to make health care decisions that meets the requirements of section 36-3221 and that comes into effect and is durable as provided in section 36-3223, subsection A.

Pre-Hospital Medical Care Directive

(DNR) (§ 36-3201(5))) – "Health care directive" means a document drafted in substantial compliance with this chapter, including a mental health care power of attorney, to deal with a person's future health care decisions.
Versions (4)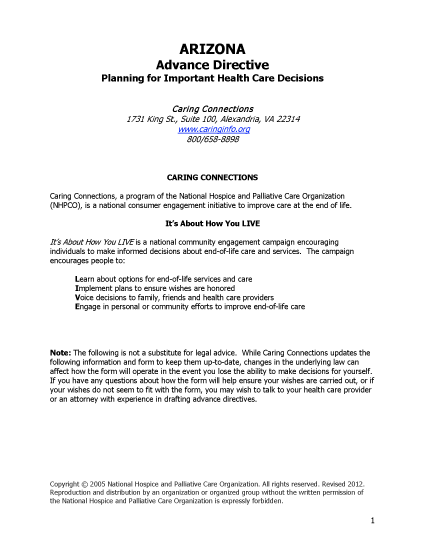 AARP Advance Directive
Download: Adobe PDF
---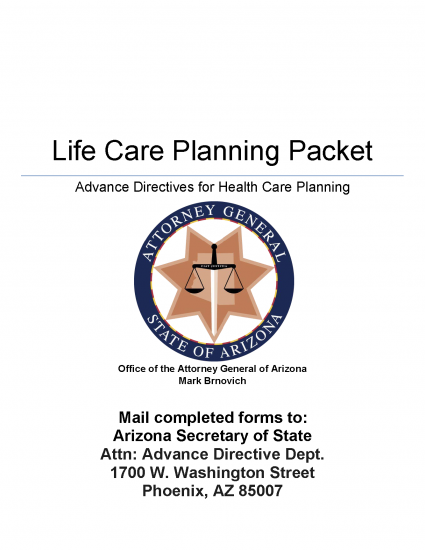 Attorney General Advance Directive
Download: Adobe PDF
---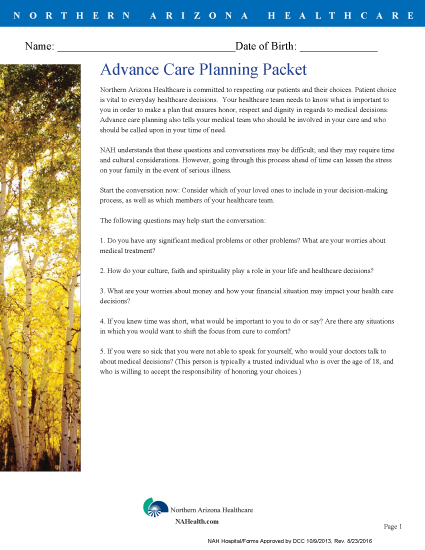 Northern Hospital Association Advance Directive
Download: Adobe PDF
---

Hospital and Healthcare Association Advance Directive
Download: Adobe PDF
---
How To Write
Download: PDF
Registration
(1) Registrant Name. The State of Arizona will keep a registration of your directives as well as allow you to perform certain administrative functions with your paperwork. To begin the registration process, you must record your complete name. Once you do this, you will be known as the Registrant. If you are an Attorney-in-Fact following your Principal's directives, then supply the name of the Principal whose directives are being carried out. It will be assumed that the Registrant and Arizona Principal submitting his or her directives are one in the same.
(2) Full Address. Dispense your current residential address using the area provided.   
(3) Registrant Identification. Some basic information that will aid in identifying your records as yours should be supplied in the form of your telephone number, birth date, and the last four digits of your social security number. 

(4) Registration Card. As mentioned your full name is required at the beginning of the registration form, however, the name you want printed on your card should be recorded. For instance, if you have a name that usually exceeds the number of printed characters on an ID, it is recommended that you make sure your full last name is presented and at least your first name initial.
(5) Additional Address. If your mailing address differs from your residential address, it must be documented it must be included so that the Arizona Secretary of State can mail your return paperwork effectively.

(6) Registrant's Purpose. Over the course of time, several reasons may be behind registering your advanced medical directives and the paperwork it consists of with the Arizona Secretary of State. You may be registering your first medical directive, replacing one that already exists, update your current directive with additional documents, request your directive be removed, request a new registration card that reflects the same information, and/or change identifying information such as your name (i.e. marriage) or address. In all of these cases, the Registrant's reason for submitting this form must be established by marking the correct checkbox statement.

(7) Registrant Signature. Before submitting the registration and any relevant paperwork, you must review the registration agreement then accept its conditions by signing your full name, recording the current date, and printing your entire name in the area directly below it. 

Appointing The Attorney-in-Fact
(8) My Name. If you have decided to appoint a Medical Attorney-in-Fact with the principal power to consent to medical treatment, refuse medical treatment, or pursue medical treatments on your behalf then continue to the next form where your full name must be presented. 
(9) My Address. The address where you live should be supplied. It should be noted the purpose of this form to is inform Arizona Medical Staff that an Attorney-in-Fact should be consulted regarding your medical treatment when you are incapacitated. Thus, supply your permanent home address as it appears with your identifying paperwork and Medical Providers even if it is not in the State of Arizona.
(10) My Age And My Date Of Birth.
(11) My Telephone.

Selection Of My Health Care Representative And Alternate
(12) Representative Name. The full name of the Private Party that you will appoint as your Medical Attorney-in-Fact in the State of Arizona should be documented. This person will bear the responsibility of informing Arizona Medical Personnel of the treatments you would consent to and those that you would refuse. Additionally, if a medical event or procedure that you have not anticipated arises during your incapacitation and treatment, your Health Care Representative (Medical Attorney-in-Fact) will be consulted to determine how you would prefer to move forward. 
(13) Address. Your Health Care Representative's address as it appears on his or her State I.D. or Driver's License should be disclosed so that he or she can be identified easily by the Arizona Health Care Professionals seeking consultation regarding your care.
(14) Home Phone.
(15) Work Phone.
(16) Cell Phone.

(17) Alternate Agent Name. Keeping in mind, that the purpose of this document is to make sure your medical treatment preferences are delivered to Arizona Physicians when you are incapacitated, it will be important to consider a circumstance where the Health Care Representative you appoint may not be available, reachable, or elgible to represent such issues when you are left unable to communicate as a result of medical condition or event. This scenario can be dealth with nicely using this document. Determine who may be approachable to fill this role should your original appointment fail then, record his or her name. This Alternate Agent will not have the power to interfere with your Health Care Representative (Medical Attorney-in-Fact) while this Party is representing you. Instead, the Alternate Agent will only assume the Health Care Representative role (and the principal power that comes with it) should your original appointment become ineffective, disqualified, unreliable, or fail.
(18) Alternate Agent Address.
(19) Home Phone.
(20) Work Phone.
(21) Cell Phone.

Decisions I Expressly Do Not Authorize My Representative To Make
(22) Medical Directives. Some decisions may be too complicated or difficult for this document to cover effectively. Thus, you may directly apply your wishes, instructions, and limitations to your Health Care Representative's principal powers in determining, accepting, refusing, and/or carrying out medical treatment directives with your approval. Set these provisions in writing within this document utilizing the available area or document them in an attachment. If the latter, make sure to title the attachment containing your medical preferences, instructions, and other provisions accordingly then document its title. You may attach as many documents as needed to fully explain what you wish Arizona Medical Staff, your Health Care Representative, and other interested Parties in terms of your medical needs and health care expectations.

My Specific Desires About Autopsy
(23) Autopsy Directive. In most cases, Arizona will not require an autopsy to be performed unless some evidence of foul play is apparent. However, interested Parties such as Family Members or even Insurance Companies may seek one. If you wish to refuse an autopsy or consent to an autopsy through this document, you may do so by marking the appropriate checkbox statement. You may also elect to have your Health Care Representative consent or refuse to a voluntary autopsy on your behalf in this way. It should be mentioned that in most areas the Arizona County Medical Examiner will require a fee for voluntary autopsies not required by the State.

My Specific Desires About Organ Donation
(24) Discuss Anatomical Gifts. This directive can be used to inform others of your decisions regarding anatomical gifts or organ donations. By initialing either statement A or statement B you can establish that you either do not consent to releasing an organ or tissue donation or that you approve of organ donations or tissue donations. If you have elected the latter, you may continue to further explain your wishes. 

(25) Intended Anatomical Gifts. You can provide clarification on the anatomical gifts you wish to make by indicating that your entire body can be donated (as a whole), that any needed part of your body or any organs can be donated, or that only certain tissues and organs that you list as approved can be donated. This requires selecting the appropriate bubble and, if necessary, utilizing the space provided to dispense your list of approved donations. 

(26) Approved Purpose. Similarly the reason that an anatomical donation can be approved or refused by you in this document. By selecting one of the available options you can authorize an anatomical gift made for any reason, approve of anatomical gifts made only for a transplant or for a therapeutic purpose, only approve of anatomical gifts made for research, or any other specific purpose that you name.

(27) Approved Recipient. An opportunity to declare who is approved to be an Anatomical Gift Recipient and who is not is also presented. If you have already made arrangements, including signed paperwork, then this should be indicated and the name of the Anatomical Gift Recipient should be reported. Otherwise, you can request that a specific type of Anatomical Gift Recipient be eligible or name your Health Care Representative as the Party who shall make this decision when the time comes.

Funeral And Burial Disposition
(28) State Post Death Arrangements. Several options have been supplied for you to define your post-death wishes. By tending to this area, you can use your initials of approval to direct that your body be buried, name a specific place for your body to be buried in, that your body be cremated, define where you wish your ashes scattered, or give your Health Care Representative the principal power to make this decision for you.

About A Living Will
(29) Signed Living Will Status. Indicate whether a living will that you have completed and signed will be attached to this document or if you have not issued and signed a living will so no such attachment should be sought.

About A Prehospital Medical Care Directive Or Do Not Resuscitate Directive
(30) Signed Prehospital Medical Care Status. If you have a Do Not Resuscitate Directive (or Prehospital Medical Care Directive) that has been completed with a licensed Physician and will attach it to this paperwork then this should be indicated. Similarly, you must state that no such paperwork exists if you have not completed and included a DNR or Prehospital Medical Care Directive.

HIPAA Waiver Of Confidentiality For MY Agent/Representative
(31) Rights Of Confidentiality. If you wish to approve your Agent to have the same rights you have to access and dispense your medical and insurance information, then you must deliver your initials. This approval will pertain directly to the rights safeguarding your privacy under the Health Insurance Portability And Accountability Act of 1996.

Signature Or Verification
(32) My Signature And Date. You must sign this document before a Witness and a Notary Public (recognized as such by the State of Arizona) to make your directives effective. Additionally, you must report on the current date immediately after you sign your name.
(33) The Proxy Option. As mentioned earlier, the Party issuing this paperwork may be doing so under the direction of the Principal whose directives it discusses (i.e. the Principal does not have the motor coordination to complete paperwork). If so, then statement B must contain the printed name of the Proxy, his or her signature, and the calendar date of signature

Signature Of Witness
(34) Witness Name. The Witness fulfilling the Arizona State requirements discussed in the affirmation statement, must acknowledge your signature by reviewing the Witness statement, then tending to the signature area provided beginnning with his or her printed name.
(35) Witness Signature. The Arizona Witness must sign his or her name.
(36) Witness Date.
(37) Address.

Notorial Jurat
(38) Notarizing The Execution. The Notary Public obtained to notarize this document's execution (signing) must take control of the paperwork then subject it to the notarization process using the area provided.

Optional Statement
(39) Doctor Information. If your Physician has reviewed this paperwork with you so that any issues can be fully comprehended, then he or she can provide a testimony by completing the signature area below the confirmation statement with his or her printed name, signed name, and signature date.

Appointing Mental Health Agent
(40) Principal Name And Address. This advance directive packet enables you to appoint a Mental Health Care Representative to communicate your directives to Arizona Psychiatric and other Mental Health Care Professionals when you are unable to do so yourself. As the Arizona Principal in this document, you must identify yourself by name.
(41) Principal Age.
(42) Date Of Birth.
(43) Principal Telephone Number.

Selection Of Health Care Representative And Alternate
(44) Mental Health Attorney-in-Fact. You must fully present the identity of your determined Mental Health Care Representative (Attorney-in-Fact). This will be the person that Arizona Medical Personnel will contact regarding your mental health needs and instructions.
(45) Address. Disclose the complete address of your Mental Health Care Representative's home or residence. 
(46) Mental Health Attorney-in-Fact Phone(s). The home telephone number, work telephone number, and cell phone number where your Mental Health Care Representative can be reached should be documented for the use of Arizona Medical or Psychiatric Personnel seeking consultation on your mental health needs.

(47) Alternate Mental Health Agent. If your Mental Health Care Representative is unable to fill this role when you are experiencing a severe crisis that compromises your ability to make decisions or communicate or while you are incapacitated (i.e. unconscious) then, you can be left vulnerable at a time when your directives could make a difference in treatment and recovery. You can handle this situation by electing a reserve or an Alternate Mental Health Care Agent that is pre-approved to wield principal decision-making power over mental health treatments only if your Mental Health Care Representative cannot, will not, or is unable to fill this role. Produce the name of the person Arizona Responders and Mental Health Professionals can approach for your treatment preferences when your first choice is no longer in or does not assume this role
(48) Mental Health Agent Address and Phone.

(49) Agent's Access To Records. A few statements must be reviewed to complete this paperwork. In order to include them, you must place a mark in the corresponding checkbox. The first of these checkbox statements will deliver the right to access the medical records regarding the mental health treatment that must be decided upon. Place a mark in this box to give your Mental Health Representative this power or leave it blank to restrict him or her from accessing your medical records.
(50) Agent's Power Over Medication. You will need to select statement B to give your Mental Health Representative the ability to consent, on your behalf, to medicals recommended by Health Care Professionals seeking to treat you.
(51) Mental Health Agent's Admittance Powers. At times, it may be necessary to admit you to an inpatient program to address your mental health needs. To give the Agent this ability, then you must place a mark in statement C.
(52) Other Mental Health Agent Powers. If appropriate, you can give specific powers and instructions to your Mental Health Care Agent using statement D. Take note, that if you do, then you must also place a mark in the checkbox.

Unauthorized Mental Health Agent Actions
(53) Limitations On Mental Health Agent Powers. There may be mental health treatments, medications, or procedures that you do not wish to consent to either for any reasons or unless these treatments are a last option of treatment. Any such treatment restrictions should be documented within this document so that Arizona Mental Health Professionals, Helath Care Providers, and Responders requiring this knowledge and reviewing this paperwork can access it readily.

Additional Information
(54) Specific Principal Concerns. If there are any additional concerns whether they are health related or not that you believe your Mental Health Care Representative or attending Medical Personnel (i.e. Physicians, Psychologists, Psychiatrists, etc.), then make a presentation of such additional provisions in this document.

HIPAA Waiver Of Confidentiality For Agent/Representative
(55) Approved Disclosures. Your confidentiality can be waived for your Mental Health Care Representative's ability to access and utilize your records to deliver your directives. To give your Mental Health Care Representative access to the medical records governed by the Health Insurance Portability And Accountability Act of 1996, you must initial the waiver provided.

Signature Or Verification
(56) Principal Signature And Date. Execute your mental health directive by signing your name and documenting the date of your signature.

Proxy Verification
(57) Proxy Signature. If you are completing and issuing this paperwork under the direction of the Principal it names, then you must review the Proxy Verification statement. To acknowledge the verification section as the Principal's Proxy, you must print your full name, sign your full name, then date your signature.

Witness
(58) Signature Of Witness. To satisfy the signature requirements for this paperwork in the State of Arizona, a Witness must have observed you (as the Principal) sign it. A specific signature area where the Witness must print his or her full name then sign it and dispense the current date as confirmation to the accuracy of the displayed testimonial.

Notorial Jurat
(59) Notarization. After the witness has provided his or her testimonial signature, the Notary Public who is in attendance will then produce the necessary items to authenticate the Principal's signing.

Living Will (End Of Life Care)
My Information
(62) Declarant Name. You can use the next form in the advanced directive to issue a living will in the State of Arizona. If you have decided to do so you must claim the document by recording your name as the Principal or Declarant. 
(63) Declarant Address And Phone. Your complete address and phone number should be dispensed with your name. 
(64) Declarant Age And Birthday. Complete the process of identifying yourself with a report on your age and birthday.

My Decisions About End Of Life Care
(65) Comfort Care Directive. If you are near the end of a terminal condition, permanently unconscious or both then you can choose not to have treatment to prolong your life except to keep you comfortable and pain-free then initial statement A.

(66) Specific Limitations On Medical Treatments. You can elect to withdraw all treatment save for comfort care but allow for certain procedures when they are necessary. For this, statement B.
(67) Choice Of Specific Limitations. The specific care you wish to receive when necessary outside of comfort care can be selected from a list in Statement B by initialing the treatment you desire. In this way you can allow for CPR, artificially administered nourishment (i.e. food and fluids), and can elect to refuse a hospital visit or stay.

(68) Pregnancy Directive. If you wish Arizona Physicians to deliver life-prolonging treatment regardless of your living will directives should it be known that you are pregnant and that your embryo will survive to a live birth, then you must initial statement C.

(69) Treatment Until My Condition Is Known. If there is some uncertainty as to why you are incapacitated or in a persistent vegetative state and you would like Arizona Physicians to administer and continue life-prolonging treatment until a definitive diagnoses is made (at which point all life-prolonging techniques should be halted), then initial statement D.

(70) Direction To Prolong My Life. If you wish your life to be prolonged through whatever legal treatment means available to Arizona Physicians then initial Statement E.

Other Statements Or Wishes I Want Followed For End Of Life Care
(71) Attachment Status. Finally, if you plan on including a document with additional directives for your living will that address your end-of-life medical treatment or those that can be administered when you unconscious for an extended period of time, then initial statement E.

Signature Verification
(72) Signature And Current Date. This living will can only be viewed as an authentic issuance from you after you provide a witnessed or notarized signature. Upon doing so, record the calendar date when you signed this paperwork.
Proxy Representation
(73) Proxy Name. You may be completing and issuing this living will on behalf of the Principal or Declarant named within it. If so, then you must verify this act by printing your name, signing your name, then furnishing the current date before one Witness or Notary Public.

Signature Of Witness
(74) Witness Name. The Private Party acting as the Witness to the signing of this document will need to provide a basic testimony as to his or her qualifications for this role and as to the authenticity to the Principal or Proxy's act of signing. The passage following the Principal's signature are will display this testimonial and requires that the Witness show his or her agreement by producing his or her printed name, signature, and signature date.

Notorial Jurat
(75) Notary Public. A distinct area has been provided if you have decided to supply proof of your signature's authenticity by having your act of signing notarized. Only the Arizona Notarial Jurat can complete this area.

Letter To My Representative(s)
(76) To My Representative. This package includes a statement clarifying the expectations you have of your Health Care Representatives. You can issue this statement to your Health Care Representative and Alternate Agent simultaneously but must address them first in the greeting beginning with the name and address of your Health Care Representative.
(77) To My Alternate Representative. The full name and address of your Alternate Agent will be needed for the second part of the greeting.

What I Ask You To Do For Me
(78) Issued Appointments. If you have appointed the Health Care Representative and Alternate Agent in the Durable Health Care Power Of Attorney and Durable Mental Health Care Power of Attorney, then place your initials next to these items. If your Agents have only been named in one of these documents, then only initial the appropriate item. You may complete a second letter if needed. This is generally useful if your Mental Health Care Agent and Health Care Agent are two different people.

Closing The Letter
(79) Your Dated Signature. Complete this letter with your signature and the current calendar date.
(80) Your Printed Name.

Prehospital Medical Care Directive (Do Not Resuscitate)
(81) My Directive And Signature. This directive contains the form needed to issue a Do Not Resuscitate Order in the State of Arizona but requires the participation of a Licensed Physician. He or she will explain the importance of storing this order in your medical records since it will inform Arizona Responders and Medical Personnel in charge of your care that you refuse the administration of cardiopulmonary resuscitation if you are found experiencing cardiopulmonary failure (hear/lung failure). Once you have consulted with your Physician and determined that this document should be issued as well, review its terms. If you are in agreement with these terms sign your name, report the date of your signature, then print your name below these items.

Identification
(82) Identify Yourself. Due to the seriousness of this issuance, a positive identification will be needed. You can provide such identification by listing your date of birth, sex, race, eye color and hair color or affixing a recent photograph.
Information About My Doctor And Hospice
(83) Physician Information. The name and professional phone number of your Physician should be recorded where requested. 
(84) Hospice Information. If you have made hospice arrangements or prefer a specific hospice, then furnish a record of its full name and address. 

Signature Of Doctor Or Other Health Care Provider
(85) Signature Of Licensed Healthcare Provider. The Licensed Physician who has consulted with your regarding the DNR being completed must sign this form and document the date of his or her signature. 

Signature Of Witness To My Directive
(86) Witness Signature. The Witness who has watched the Physician and you sign this document must attest to this fact by delivering his or her signature and signature date.