A Georgia advance directive gives an individual (the principal) the right to legally designate someone (an agent) who can make health care decisions on their behalf in the event the principal becomes incapacitated. An advance directive can also outline the principal's treatment and end-of-life wishes for medical providers.
Laws
Statutory Form – § 31-32-4
Signing Requirements (§ 31-32-5(c)(1)) Two (2) witnesses are required. Neither witness can serve as the declarant's agent, nor can they inherit anything from the declarant's death.
State Definition (§ 31-32-2(1)) – "Advance directive for health care" means a written document voluntarily executed by a declarant in accordance with the requirements of Code Section 31-32-5.
Spanish (Español) Version – Adobe PDF
Versions (4)
---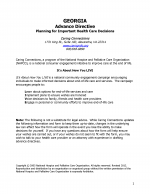 AARP 
Download: Adobe PDF 
---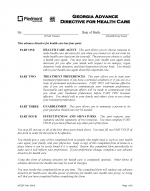 Piedmont Healthcare 
Download: Adobe PDF
---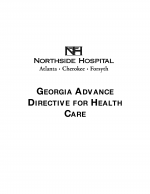 Northside Hospital 
Download: Adobe PDF
---

Georgia Division of Aging Services
Download: Adobe PDF
---