An Idaho advance directive is a legal document outlining an individual's wishes for end-of-life treatment, which involves topics of resuscitation, organ donation, comfort measures and more. This care-planning tool is also used to arrange a healthcare surrogate should the principal become incapacitated.
Laws
Statutory Form – § 39-4510.1
Signing Requirements (§ 39-4510) – Only the principal's signature is required by law.
State Definition (§ 39-4502(8)) – "Directive," "advance directive" or "health care directive" means a document that substantially meets the requirements of section 39-4510(1), Idaho Code, or is a "Physician Orders for Scope of Treatment" (POST) form or is another document which represents a competent person's authentic expression of such person's wishes concerning his or her health care.
Spanish (Español) Version – Adobe PDF
Versions (4)
---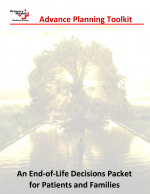 Primary Health Medical Group
Download: Adobe PDF
---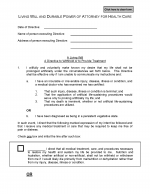 Idaho.gov
Download: Adobe PDF
---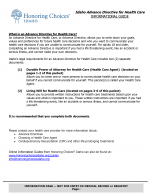 Honoring Choices 
Download: Adobe PDF
---

Kootenai Health
Download: Adobe PDF
---