A Louisiana advance directive is a collection of documents that allows an individual to express their medical wishes to providers when they are unable to speak for themselves. The forms are meant to guide physicians and caregivers toward the intent of the patient and involve topics of resuscitation, artificial nutrition and more. The principal may also designate a healthcare representative who is given authority to make medical decisions for the principal if they were to become incapacitated.
Spanish (Español) Version – Adobe PDF
What's Included?
Laws
Signing Requirements (RS 28:224, RS 40:1151.4) – Two (2) witnesses.
State Definitions
Advance Directive (RS 28:221)  – "Advance directive" means a written document voluntarily executed by a principal in accordance with the requirements of this Part and includes a declaration or the appointment of a representative or both

Declaration

(LA Rev Stat § 40:1151.1(4)) – "Declaration" means a witnessed document, statement, or expression voluntarily made by the declarant, authorizing the withholding or withdrawal of life-sustaining procedures, in accordance with the requirements of this Subpart. A declaration may be made in writing, orally, or by other means of nonverbal communication.
Versions (4)
---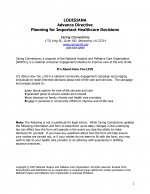 AARP
Download: Adobe PDF
---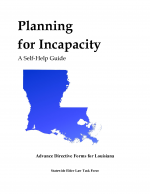 State of Louisiana
Download: Adobe PDF
---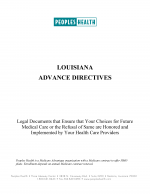 Peoples Health
Download: Adobe PDF
---

Office of Mental Health
Download: Adobe PDF
---