A Massachusetts advance directive is a document that allows a principal to list their intended medical wishes and assign a representative, called a healthcare proxy, to guide medical providers when the principal reaches a state of incapacitation. Massachusetts is one of few states that does not recognize living wills as having legal authority, but the document, which is sometimes called a "personal wishes statement," may still be included in an advance directive for medical providers to reference.
Spanish (Español) Version – Adobe PDF
What's Included?
Laws
Signing Requirements (§ 201D-2) – Two (2) witnesses
State Definitions
Health Care Agent

(§ 201D-1) – "Health care agent" or "agent", an adult to whom authority to make health care decisions is delegated under a health care proxy.

Health Care Proxy

 (§ 201D-1) – "Health care proxy", a document delegating to an agent the authority to make health care decisions, executed in accordance with the requirements of this chapter.
Versions (4)
---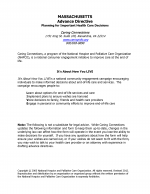 AARP
Download: Adobe PDF
---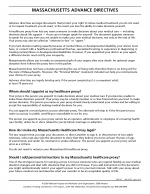 University of Massachusetts
Download: Adobe PDF
---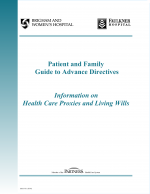 Brigham and Women's Hospital
Download: Adobe PDF
---

Archdiocese of Boston
Download: Adobe PDF
---