A Minnesota advance directive informs future healthcare providers of an individual's treatment wishes. An advance directive may also be used to designate a third party as the person responsible for any health care decisions should the individual become incapacitated.
Laws
Statutory Form – § 145C.16
Signing Requirements (§ 145C.03) – At least two (2) witnesses, none of which can be the principal's healthcare provider.
State Definition (§ 145c.01 5a) – "Health care directive" means a written instrument that complies with section § 145C.03 and includes one or more health care instructions, a health care power of attorney, or both; or a durable power of attorney for health care executed under this chapter before August 1, 1998.
Spanish (Español) Version – Adobe PDF
Versions (4)
---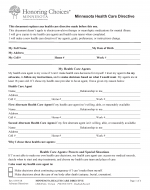 Honoring Choices
Download: Adobe PDF 
---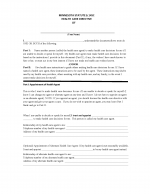 Minnesota Attorney General
Download: Adobe PDF
---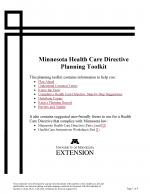 University of Minnesota
Download: Adobe PDF
---

Mayo Clinic
Download: Adobe PDF
---