A New York advance directive is a document on which individuals may write out their health care wishes and assign a trusted friend or family member to act as their healthcare proxy. The "living will" form guides physicians on how to handle a person's end-of-life care. Living wills aren't recognized in New York, but they may be attached to a health care proxy document to further direct medical staff and assist the patient's medical agent.
Spanish (Español) Version – Adobe PDF
What's Included?
Laws
Signing Requirements (NY Pub Health L § 2981) – Two (2) witnesses.
State Definitions
Health Care Agent

(NY Pub Health L § 2980(5)) – "Health care agent" or "agent" means an adult to whom authority to make health care decisions is delegated under a health care proxy.
Versions (5)
---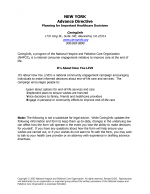 Caring Info
Download: Adobe PDF
---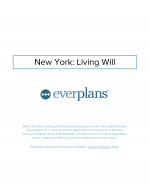 Everplans
Download: Adobe PDF
---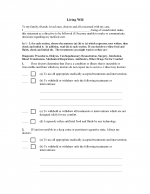 Montefiore Medical Center
Download: Adobe PDF
---

NYU Langone Medical Center
Download: Adobe PDF
---

Archdiocese of New York
Download: Adobe PDF
---