A North Carolina advance directive is a multi-part document that lets a person list out medical directives for providers to follow in case the individual were to become incapacitated. One type of directive also allows for the assignment of a health care power of attorney whereby someone the individual knows is given the authority to make decisions related to the person's medical care. These directives only take effect once the patient is no longer able to make their own decisions.
Spanish (Español) Version – Adobe PDF
What's Included?
Laws
Signing Requirements (NC Gen Stat § 90-321(3)) – Two witnesses not related within a third degree to the declarant or the declarant's spouse
State Definitions
Declaration

(§ 90-321(a1)) – Except as provided in G.S. 90-321.1, any signed, witnessed, dated, and proved document meeting the requirements of subsection (c) of this section.

Health Care Power of Attorney

(NC Gen Stat § 32A-16(3)) – A written instrument that substantially meets the requirements of this Article, that is signed in the presence of two qualified witnesses, and acknowledged before a notary public, pursuant to which an attorney-in-fact or agent is appointed to act for the principal in matters relating to the health care of the principal. The notary who takes the acknowledgement may but is not required to be a paid employee of the attending physician or mental health treatment provider, a paid employee of a health facility in which the principal is a patient, or a paid employee of a nursing home or any adult care home in which the principal resides.
Versions (4)
---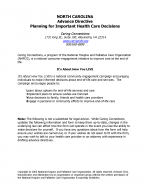 AARP
Download: Adobe PDF
---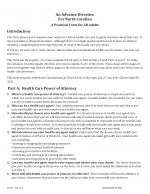 Atrium Health
Download: Adobe PDF
---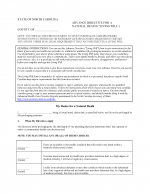 Duke Health
Download: Adobe PDF
---

Catholic Diocese of Raleigh
Download: Adobe PDF
---