A North Dakota advance directive is a document that lets a patient list out their intentions for end-of-life instances and events of incapacitation. Moreover, the patient, who is called the "Principal," may assign a medical power of attorney who is given the authority to make the patient's medical decisions when the patient cannot speak for themselves.
Laws
Statutory Form – § 23-06.5-17
Signing Requirements (§ 23-06.5-05(2)) – The principal and two (2) witnesses at least eighteen (18) years of age or a notary public.
State Definition (§ 23-06.5-02(5)) – "Health care directive" means a written instrument that complies with this chapter and includes one or more health care instructions, a power of attorney for health care, or both.
Spanish (Español) Version – Adobe PDF
Versions (5)
---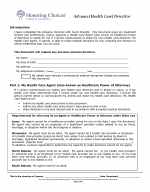 Honoring Choices
Download: Adobe PDF
---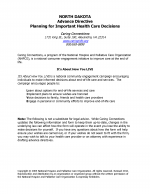 AARP
Download: Adobe PDF
---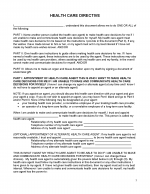 North Dakota Legislative Branch
Download: Adobe PDF
---

North Dakota Medical Association
Download: Adobe PDF
---

Catholic Diocese of Bismarck
Download: Adobe PDF
---