An Ohio advance directive is a document that allows a patient (called the principal) to list out medical directives to be invoked by providers at a later date if the patient were to fall into a state of incapacitation. The principal may name an agent (health care power of attorney) to make medical choices on their behalf. Agents may only assume decision-making authority when the patient cannot communicate.
Spanish (Español) Version – Adobe PDF
Laws
Signing Requirements (§ 2133.02(A)(1)) – Two (2) witnesses or a notary public.
State Definitions
Declaration

(§ 2133.01(f)) – "Declaration" means a written document executed in accordance with section 2133.02 of the Revised Code.

Durable Power of Attorney for Health Care

(§ 2133.01(g)) – "Durable power of attorney for health care" means a document created pursuant to sections 1337.11 to 1337.17 of the Revised Code.
Versions (4)
---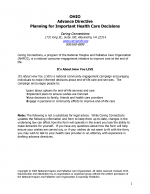 AARP
Download: Adobe PDF
---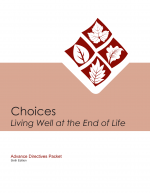 Ohio Hospital Association
Download: Adobe PDF
---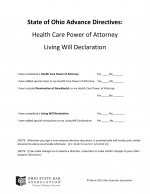 Cleveland Clinic
Download: Adobe PDF
---

Mercy Health
Download: Adobe PDF
---