An Oklahoma advance directive is a form that guides medical staff to carry out a patient's choices for end-of-life care and comfort measures. A healthcare surrogate may also be assigned to help direct nurses and physicians, and the surrogate assumes control over a patient's healthcare decisions when the patient is pronounced incapacitated by a physician.
Laws
Statutory Form – § 63-3101.4(C)
Signing Requirements (§ 63-3101.4(A)) – Signed in the presence of two (2) witnesses eighteen (18) and older.
State Definition (§ 63-1-301.3) – "Advance directive for health care" means any writing executed in accordance with the requirements of Section 3101.4 of this title and may include a living will, the appointment of a health care proxy, or both such living will and appointment of a proxy;
Spanish (Español) Version – Adobe PDF
Versions (5)
---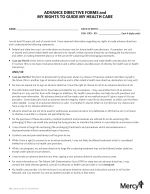 Mercy Health
Download: Adobe PDF
---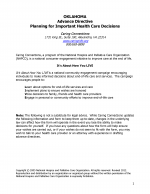 AARP
Download: Adobe PDF
---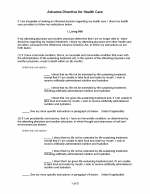 Oklahoma Bar Association
Download: Adobe PDF
---

McAlester Regional Health Center
Download: Adobe PDF
---

Integris Health
Download: Adobe PDF
---