A Pennsylvania advance directive is a set of instructions that informs medical agents and providers about how to handle a person's medical care should they be unable to speak for themselves. A "living will" lists treatments that the individual would like to accept or refuse, and a "medical power of attorney" assigns a spokesperson (usually a trusted friend or family member) to make healthcare-related choices when the individual does not have the capacity to choose for themselves.
Spanish (Español) Version – Adobe PDF
What's Included?
Laws
Signing Requirements (20 PA Cons Stat § 5442(b)) – Two (2) witnesses ages eighteen (18) and older. Witnesses may not be the principal's health care provider.
State Definitions
Versions (5)
---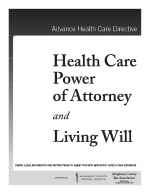 Allegheny County
Download: Adobe PDF
---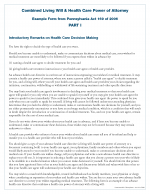 Guthrie Medical Group
Download: Adobe PDF
---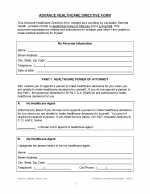 Lancaster General
Download: Adobe PDF
---

AARP
Download: Adobe PDF
---

Pennsylvania Catholic Conference
Download: Adobe PDF
---