A Rhode Island advance directive is a document that lists a Principal's intentions for medical care they wish to receive or refuse at a future date in the event they are unable to communicate with providers. The form also gives the option for designating a health care power of attorney who may act as the Principal's representative and make medical choices on their behalf. These forms are not valid until the patient reaches a state of incapacitation.
Spanish (Español) Version – Adobe PDF
What's Included?
Laws
Signing Requirements (RI Gen L § 23-4.11-3(a), RI Gen L § 23-4.10-2) – Two (2) witnesses unrelated to the principal by blood or marriage.
State Definitions
Advance Directive Protocol

 (RI Gen L § 23-4.10-1.1(1)) – "Advance directive protocol" means a standardized, state-wide method developed for emergency service personnel by the department of health and approved by the ambulance service advisory board, of providing palliative care to, and withholding life-sustaining procedures from, a qualified patient.

Declaration

(RI Gen L § 23-4.11-2(4)) – "Declaration" means a witnessed document executed in accordance with the requirements of §§ 23-4.11-3 or 23-4.11-3.1.

Medical Order for Life-Sustaining Treatment

(RI Gen L § 23-4.11-2(10)) "Medical orders for life sustaining treatment" or "MOLST" means a voluntary request that directs a health care provider regarding resuscitative and life-sustaining measures.
Versions (4)
---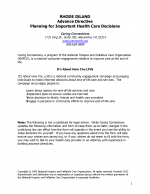 AARP
Download: Adobe PDF
---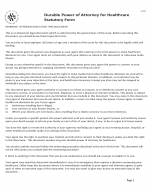 Department of Health
Download: Adobe PDF
---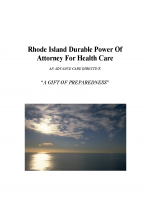 Hope Health
Download: Adobe PDF
---

Diocese of Providence
Download: Adobe PDF
---