A Virginia advance directive is a legal document that instructs an individual's medical providers and their designated medical power of attorney on how to provide care for them if they cannot speak for themselves. Included are end-of-life wishes and whether or not the patient wishes to be resuscitated, among other directives. Agents may only make medical decisions in the event that the principal becomes incapacitated.
Laws
Statutory Form – § 54.1-2984
Signing Requirements (§ 54.1-2983) – Two (2) witnesses.
State Definition (§ 54.1-2982) – "Advance directive" means (i) a witnessed written document, voluntarily executed by the declarant in accordance with the requirements of § 54.1-2983 or (ii) a witnessed oral statement, made by the declarant subsequent to the time he is diagnosed as suffering from a terminal condition and in accordance with the provisions of § 54.1-2983.
Spanish (Español) Version – Adobe PDF
Versions (5)
---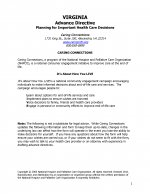 AARP
Download: Adobe PDF
---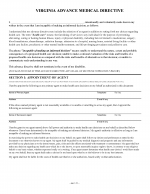 Inova
Download: Adobe PDF
---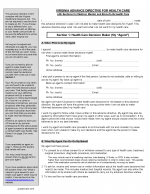 Virginia State Bar
Download: Adobe PDF
---

University of Virginia Health System
Download: Adobe PDF
---

Virginia Hospital & Healthcare Association
Download: Adobe PDF
---