A West Virginia advance directive is a document referenced by medical providers and created by patients that outlines the patient's medical wishes involving end-of-life treatment and resuscitative efforts. Part of the form also includes the option to designate a medical power of attorney who is given the ability to make decisions for the patient in the event that they are incapacitated and cannot speak for themselves.
Spanish (Español) Version – Adobe PDF
What's Included?
Laws
Signing Requirements (§ 16-30-4) – Two (2) witnesses and a notary public.
 State Definitions
Living Will

(WV Code § 16-30-3(n)) – Living will" means a written, witnessed advance directive governing the withholding or withdrawing of life-prolonging intervention, voluntarily executed by a person in accordance with the requirements of §16-30-4 of this code.

Medical Power of Attorney Representative

(WV Code § 16-30-3(q)) – "Medical power of attorney representative" or "representative" means a person, 18 years of age or older, appointed by another person to make health care decisions pursuant to the provisions of §16-30-6 of this code or similar act of another state and recognized as valid under the laws of this state.
Versions (5)
---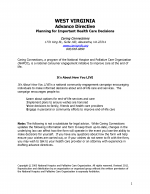 AARP
Download: Adobe PDF
---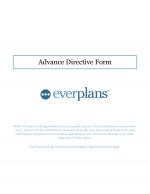 Everplans
Download: Adobe PDF
---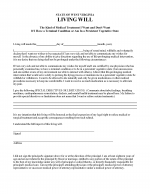 Fairmont Regional Medical Center
Download: Adobe PDF
---

Grant Memorial
Download: Adobe PDF
---

West Virginia Ethics Commission
Download: Adobe PDF
---