A Wisconsin advance directive is a set of documents that allow patients to describe end-of-life wishes and treatments they would accept or refuse if they were to become incapacitated. The patient may elect a health care power of attorney who may further guide medical staff in the interest of the patient. Directives are employed when the patient can no longer make their own decisions.
Spanish (Español) Version – Adobe PDF
What's Included?
Laws
Signing Requirements (§ 244.05, § 154.03(1)) – Two (2) witnesses.
 State Definitions
Declaration

(WI Stat § 154.02(1)) – "Declaration" means a written, witnessed document voluntarily executed by the declarant under s. 154.03 (1), but is not limited in form or substance to that provided in s. 154.03 (2).

Power of Attorney for Health Care

(WI Stat § 155.01(10)) – Power of attorney for health care" means the designation, by an individual, of another as his or her health care agent for the purpose of making health care decisions on his or her behalf if the individual cannot, due to incapacity.
Versions (4)
---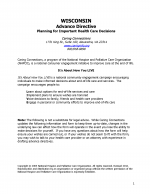 AARP
Download: Adobe PDF
---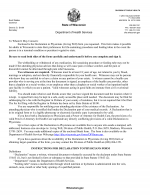 Department of Health Services
Download: Adobe PDF
---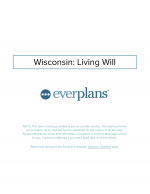 Everplans
Download: Adobe PDF
---

Group Health Cooperative of South Central Wisconsin
Download: Adobe PDF
---