A Wyoming advance directive is a document that tells physicians and other medical personnel how to carry out an individual's wishes if they are incapacitated and cannot speak for themselves. An agent may be selected who can make decisions and help guide the medical intentions of the patient. The agent may only do so when the principal is no longer of sound mind.
Laws
Signing Requirements (§ 35-22-403(b)) – Acknowledged before a notary public or signed by two (2) witnesses.
State Definition (§ 35-22-402(a)(i)) – "Advance health care directive" means an individual instruction or a power of attorney for health care, or both.
Spanish (Español) Version – Adobe PDF
Versions (4)
---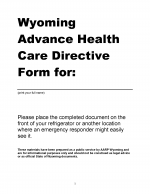 Cheyenne Regional Health Systems
Download: Adobe PDF
---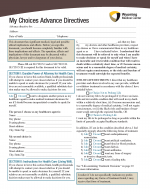 Wyoming Medical Center
Download: Adobe PDF
---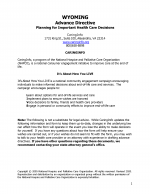 National Hospice and Palliative Care Organization
Download: Adobe PDF
---

Catholic Diocese of Cheyenne
Download: Adobe PDF
---